I had been looking for something different this year. We have always done the chocolate advent calendar. Why? I asked myself what does that teach us? I looked around the web and found so many good ideas. I was going to make my own activities put them in pockets on a board. Right now I do not have time for that. While I was looking I found Truth in the Tinsel. Wow. It gives me a craft to do with the kids, scripture to read with them, and what to talk to the kids about. This year we have been talking more about what Christmas really means and giving to others. This will help back Daddy-O and I up.
Oh it is only $4.99 and it comes as an e-book. What's not to love.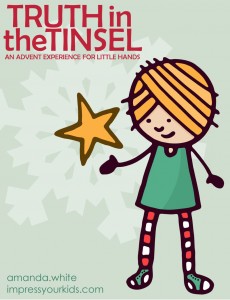 We have also introduced The Toy That Saved Christmas, Veggie Tales video. I picked it up at Walmart in the $5.00 bin.
I will post as we complete. I think I have found a new tradition this year.
What kind of Advent Calendar do you do?